Wii Table Football is the all new sports game from the exceptional
developments team at 505 Games which sees the world of table
football come to life before your eyes.
The game allows players to feel the cut and thrust of one of the
most entertaining home football games in history as they attempt
to win the title of world champion.
Players will be required to defeat a wide variety of foes as they
work their way to winning the championship which may seem
easy but you can take it from us that it is much harder than
you could possibly imagine.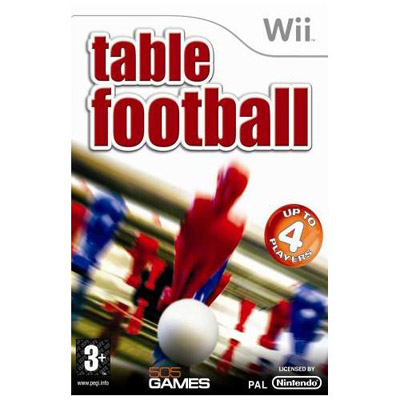 For those of you who love games of this type you will absolutely
adore this game as it has brilliant graphics which really do make
the game come to life and it is highly entertaining to say the
least.
Game play again is fantastic and we feel this game is worth every
penny you pay for it and thus Games99 have awarded this title
with a rating of 8/10.
Official Table Football Website
Sale

Xbox Table Tennis is the revolutionary new sports game from the
iconic team at Rockstar games which has been hailed as
possibly the best game of its kind ever to be released onto
the gaming market.
The game is set in the fast paced world of professional table
tennis where gamers are entered into the upcoming world table
tennis championships.
Players must defeat a wide selection of opponents on their
way to lifting the title and it will take all your skill and
composure to do so.
We have seen many games like this in our time but this new
title is by far the best as it offers some of the most
realistic visuals we have ever seen in a game of this type.
The game play again is out of this world and highly addictive
and this is the reason that our team here at Games99 have
chosen to award this title a rating of 10/10.
Sale